You are here:
Shotokan Karate Wodonga
Shotokan Karate Wodonga
Karate is the oldest and most traditional form of self defence teaching respect and discipline.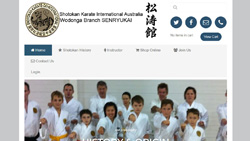 Contact person
Address:
137 Brockley Street, Wodonga 3690, Victoria, Australia
Business Details

Map

Reviews

Training Times
SENRYUKAI (RIVER DRAGON CLUB) 川龍会
Senryukai is the name of the dojo established by the most significant river on the border of Victoria and New South Wales: The Murray River. It also indicates the clubs relationship with Karyukai ( Summer Dragon Club), where Sensei Andrew built his Shotokan foundation. The dragon is the only fantasy animal used in the twelve zodiac signs (Chinese astrology) and it is believed to rid all evil spirits and bring fortune. Senryukai was born in 2012 - the year of Dragon - and hopes to represent the fluidity and vital energy seen in its creature.
The name SENRYUKAI holds the following fortune:
柔軟性 金運 成功 僥倖 多幸 天恵 躍動
Dynamic
Flexibility
Blessing
Euphoric
Fortuitous
Wealth.
North Albury
990 Mate St North Albury
Mondays and Wednesdays
Kids 5.30pm - 6.15pm
Adults 5.30pm - 7.00pm
Wodonga
137 Brockley Street, Wodonga
Tuesdays and Thursdays
Tuesdays 5.30pm - 6.30pm
Thursdays 5.30pm - 6.30pm
Beechworth
30 Ford Street, Beechworth
Mondays and Fridays
Mondays 5.15pm- 6.15pm
Fridays 5.15pm- 6.15pm